Activities
Warning
: Parameter 2 to qtranxf_postsFilter() expected to be a reference, value given in
/home4/pal/public_html/wp-includes/class-wp-hook.php
on line
288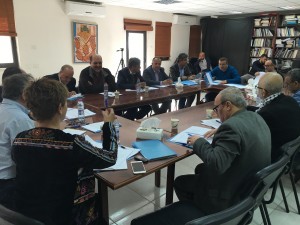 The Palestine Strategy Group convenes meetings, focus groups, develops strategic analysis, scenario planning and provides space for debate on policy and ways forward.
Recent Workshops
PSG-MADAR & PSG-Palthink
The most recent PSG roundtable discussions have taken place in partnership with local partner organisations MADAR and Palthink. Roundtable discussions serve as community consultations which allows PSG policy paper authors to present their ideas to PSG members, regional and international think tanks, civil society stakeholders, political leaders as well as decision- and policy-makers which they then incorporate as feedback towards finalising their papers. The below meetings were all closed strategic thinking roundtable discussions, took place in Ramallah (when organised by MADAR) and Gaza (when organised by Palthink) and are named after the policy paper presented.
The Neoliberal Reality and the Emergence of New Powers in Israel, 23 January 2018 in Ramallah and 06 February 2018 in Gaza

Israel 2017: Tools and Scenarios to Impact Israeli Public Opinion, 19 December 2017 in Ramallah and 18 January 2018 in Gaza

The Infrastructure of Israeli Electoral Politics and its Impact on Decision-Making vis-à-vis the Palestinian Cause, 28 November 2017 in Ramallah and 08 January 2018 in Gaza

Mapping the Political Dimensions of Demographic Transformations in Israel, 30 October 2017 in Ramallah and 20 February 2018 in Gaza
PSG Cats Abbey 2017 four day conference, United Kingdom
In August 2017 the PSG took part in Oxford Research Group's cross-track strategic engagement workshop at a retreat near Oxford in the United Kingdom. The workshop was successful in coming up with a formula that synchronises the work schedule, structure of policy papers and internal project strategy and lays the foundations for the upcoming Strategic Report; Palestine 2020.