Activities
The Palestine Strategy Group convenes meetings, focus groups, develops strategic analysis, scenario planning and provides space for debate on policy and ways forward.
Recent Workshops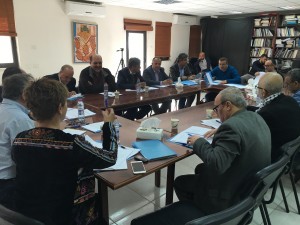 PSG-MADAR
Cross green line spaces: Opportunities for cooperation between Palestinian citizens in Israel and the occupied territories  (14 November 2015).
The meeting looked at opportunities for improved coordination among Palestinians across the green line which is part of a broader Palestinian national dialogue.
In May 2015, the Palestine Strategy Group in cooperation with Madar held a workshop on the implications of the Israeli elections on Palestinian strategy.
PSG-Masarat
In April 2015 Masarat and Palestine Strategy Group held a meeting to discuss navigating the new political realties in the national, regional and international arenas.
PSG-Palthink I and II
In December 2014, Palthink in Gaza and Palestine Strategy Group held two meetings on the implications of changing national and regional dynamics.
PSG Cats Abbey 2014 three day conference, the United Kingdom
In September 2014 the PSG held its annual conference at a retreat near Oxford in the United Kingdom. Click here for the conference agenda.